HAPPY ALMOST VALENTINES DAY!!!
I will confess… I used to HATE valentines day.
Yep, I was that girl who hated valentines day pre-bf. guilty.
Now going on year two with a valentine I have caught the fever.
Red, pink, white, GLITTER… GLITTER… GLITTER
(cause really the only thing I am loving more than valentines day is GLITTERRRRR)
I live by myself in a tiny town soooo I decorating my house for a holiday is not on the top of priorities list… EXCEPT I really love to do it so I gave myself a budget of $10 to decorate.
Thanks to the lovely and slightly addictive sales at Hobby Lobby
this was totally do-able.
This banner makes me so happy.
I love the pop of glitter against the vintage book pages!
I bradded the pages so that they can slide along the twine in case I needed to add another page for another holiday phrase.
I used Velcro to attach the glitter paper to the book pages so I can switch out the phrases for more holidays!
This "print" was sorta an accident.
I had an empty frame on my wall while I was waiting for a new picture.
So I decided to mess around with the extra supplies I had left over.
I turned the "I" and "U" to the opposite side in order for them to pop against the silver back ground an other silver chip board letters!
I really enjoy simplicity.
I repurposed this wreath from my Christmas wreath.
I detached the poinsettia and attached
a simple glitter paper heart and chip board "XO".
Simple and sparkly… my kinda wreath.
Reese and I don't really do "gifts" for valentines.
(don't worry reese doesnt read the blog :) )
So I decided that a date jar would be a great compromise.
I filled this jar with lots of fun date ideas.
Because we are in a long distance relationship (boo)
I added things we can do in all 3 cities we frequent!
My favorites include: Fort Night, Chopped Cooking Night and a Wine tasting!
I figured that 10 dates would last longer than chocolate… especially around me.
The actual jar on the other hand is totally just for me though.
All I did was dip the rim in glue and then roll it around in glitter. obsessed.
I set the glitter with a generous spray of hairspray!
I am linking up with :
For SHARE THE LOVE FEST!!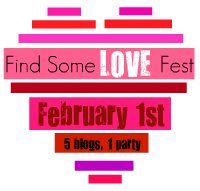 Go check out there blogs to see their wonderful valentines creations!