For one reason or another I am a really bad speller.
Yes, I teach English. Yes, spell check is my best friend.
I was asked to help run our schools spelling bee, I mean I guess that makes sense I AM the english teacher. It was decided that I would be the pronouncer.
In the 4th grade I was knocked out of the spelling bee on the word calendar (don't worry I'm not bitter or anything).
C-A-L-E-N-D-A-R. Ill never miss spell it again. NEVER,
The whole fact that I was running a spelling bee is pretty comical BUT it is also a testament to the fact that despite challenges that really should stop you hard work, and a little help from technology in my case, can make things possible.
The winning words was "stroganoff"... honestly I'm just glad all I have to do is eat stroganoff rather than spell it.
--------------------------------------------------------------------------------------------
ALSO It is monday so I am linking up with the WONDERFUL Jessica from
Lovely Little Things
for Smell the Roses, a weekly task that helps us enjoy the simple pleasures in life!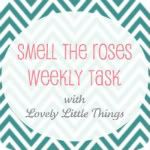 this weeks task was to hand write a letter. This week is my boy friends birthday week due to the fact that we live in two different cities and his birthday is in the middle of the week I got to spoil him through the mail. I sat down and actually wrote him a letter vs. just a generic birthday card. It was lovely.
THIS WEEK the task is to buy someone a cup of coffee with out them knowing it. This task is something I am going to have to get creative on considering there isn't a coffee shop with in thirty miles of my tiny town. Good thing I like to be creative!
Have a WONDERFUL Monday lovelies!