Sooo here it is.
I apologize for the flying hands
(good things we dont have 3D blogging yet)
and sounding like a Disney Princess on crack.
ENJOYYY.
I made it 1:50 with out saying "like" … HOLLLAA
I made up 6 words…aloneness?? Really. Don't worry i'm and english teacher.
But if you think that was awkward watch this…


SLOTHSSSS, but really I couldn't stop laughing.


I no longer feel like the most awkward girl in the world… thanks Kristen Bell.



This was such a wonderful task this week to write down 5 things we love about our self.
Some of mine are sincere some are funny, but here are 5 things I love about myself.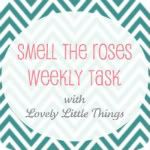 Go over an visit her WONDERFUL blog!!!