If you read my High 5 Friday you know I had a "ugh" week.
Then Friday came around, glorious friday, and then it to gave me a swift kick in the butt.
Stay tuned the story is still developing.
Now on to some super spectacular Saturday news
"Hey guys I'm Lindsay from Every Day Life! I'm a college student studying Mass Communications with a heart for the Lord. I'm into everything I can possibly be in and I stay active and busy all the time. I had a beautiful family and fabulous friends. God has placed so many blessings in my life and I thank Him daily for all this He is doing for me and will continue to do. I love life and remember that each day that I have I can never get back so I better take all the chances and opportunities that I have."
"Every Day Life is a place for me to share my thoughts, ideas, and sometimes craziness! I post about DIY craft projects, makeup, fashion, clothes, hair, and everything that could possibly be in between. I like to keep it fresh and new and down to earth. I love sharing my ideas with others and hearing about theirs as well. Every Day Life would love to have you come over and take a peek, even become a follower if you're up to it :) I promise you won't be disapointed!"
Hello Everyone! I'm Ashlee over at
The Purple Pomegranate
! I'm a part time Graphic Design student and work at a photography studio with two amazing girls who I adore. I just started blogging the beginning of last month, but I've already met so many great friends! Blogging has become one of my favorite things to do in my spare time! Stop by and say hello! I love meeting fellow bloggers :D Besides blogging, I have an Etsy shop,
Bauble Stones
, where I sell unique jewelry! For a short time, use coupon code: FIFTEEN to receive 15% off your order!

xo, Ashlee.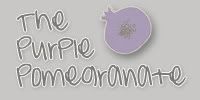 Go Check these lovely ladies out and give them some Sweetly Complicated Love!!
Have a great weekend and remember don't drive over nails.